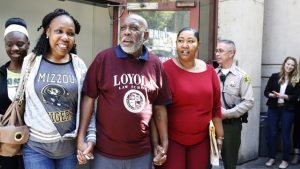 Andrew Leander Wilson would spend 32 years, three months and 14 days in prison for a crime he did not commit. When Andrew was 30 years old, he was falsely accused and wrongfully convicted of a murder he did not commit. He would be 62 years old before he would be exonerated and again be a free man. Leading to his release and eventual exoneration was information that demonstrated that the prosecutor in his first trial had withheld evidence from the defence and court, resulting in his wrongful conviction. In the recent ruling, Superior Court Judge Laura Priver found that Andrew had been deprived of his constitutional rights to a fair trial. She vacated his conviction and ordered his immediate release.
Prior to this ruling, Andrew had fortunately had the assistance of his criminal defence lawyer and students from the Loyola Law School Project for the Innocent. They had worked together to reveal the evidence that the prosecution had withheld during Andrew's murder trial. Andrew had been falsely accused of stabbing to death a 21-year-old man in 1984. The man had been sleeping in his truck when he was stabbed. This occurrence had supposedly been witnessed by the man's girlfriend. Andrew's criminal defence lawyer would demonstrate to the court that the prosecution withheld key pieces of evidence about the girlfriend who claimed to have witnessed the murder. Her evidence would be what ultimately led to his wrongful conviction.
It was found that the girlfriend picked Andrew out of a line up only after one of the investigating police officers made suggestive remarks, encouraging her to select Andrew. Furthermore, she was found to be an unreliable witness as she had previously made a false police report, falsely reporting that someone of had kidnapped and attempted to sexual assault her. As well, there was evidence to suggest that the girlfriend herself was the likely murderer. It was told to investigating officers and disclosed to the prosecution that she had previously stabbed her boyfriend in the past . This evidence had been known to the prosecution but not disclosed to Andrew's criminal defence lawyer at his trial. It is mandatory that evidence that the prosecutor possesses also be disclosed to the defence to ensure the accused's right to a fair trial.
Andrew had maintained his innocence throughout his ordeal. Following his release, he would make light of his experience of awful hardship saying to the press "I'm past it. I just want to get something to eat right now and love my family." Despite his unbelievable ordeal his spirits seem high. He reunited with his family, eager to begin to make up for lost time. His family had also maintained Andrew's innocence throughout the 32 years.
Upon his release, his daughter said, "We just needed to love on him and keep him encouraged through it all. All we can do is keep our head up you know that's just it. We've always been a hopeful that one day...by the grace of God today is that day. "