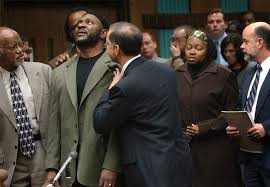 In 1984 Darryl Hunt was twice wrongfully convicted of the rape and murder of Deborah Sykes. He went on to be exonerated by DNA evidence after serving 19.5. Darryl was from Winston-Salem, North Carolina a town infamous for poor race relations. Darryl was a black man and the complainant was a white woman. Racism was said to have been a significant cause of Darryl's wrongful convictions.
Darryl was charged with the rape and murder despite there being no physical evidence linking him to the crime. At his trial several eyewitnesses falsely claimed to have seen him at the scene of the crime, a hotel. Based upon this misleading eye-witness testimony he would be convicted by an all white jury. He was sentenced to life imprisonment. In 1994, advancements in DNA testing allowed Darryl to be cleared of any sexual assault. As the sexual assault was the crux of the prosecuters murder case against Darryl, his murder conviction was subsequently questioned. During his almost 20 year ordeal Darryl would maintain his innocence, never wavering.
However it would not be until December 2003, that the DNA found at the crime scene would be matched to Willard E. Brown. Willard E. Brown would then confess to the 1984 rape and murder of Deborah Sykes. His confession would lead to the release and exoneration of Darryl Hunt. After almost 20 years in prison Darryl would finally prove his innocence.
It wouldn't be until February 6, 2004, that Judge Anderson Cromer, a American Superior Court Jusge at the time would finally vacate Darryl's murder conviction in the case. The charges against him were dismissed "with prejudice", meaning he can never be tried in the murder again.
Darryl Hunt would go on to become an advocate for the wrongfully convicted. He founded the Darryl Hunt Project for Freedom and Justice and The Darryl Hunt Freedom Fighters, advocacy groups in support of the wrongfully convicted. Darryl as well was an advocate against the death penalty in North Carolina. Finally fully vindicated Darryl sued the city of Winston-Salemhis lawsuit, the suit was eventually settled February 19, 2007. He was awarded a settlement of $1,650,000. Tragically Darryl would go on to be dianosed with stage four cancer and would take his own life. He passed away on from self inflicted injuries on March 13, 2016.
Darryl's advocacy work lives on thrugh The Darryl Hunt Project for Freedom and Justice. This projectcontinues to be devoted to "educating the public about flaws in the criminal justic system, advocating for those wrongfully incarcerated as a result of those flaws, and providing resources and support for those trying to rebuild their lives."