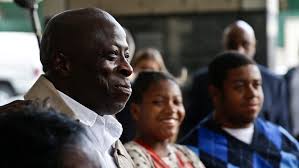 David McCallum was falsely accused and wrongfully convicted of murder. His ordeal began when he was only sixteen years of age. In 1985, he and his good friend Willie Stuckey would be arrested for a murder, abduction and robbery that occured Queens New York. The victim was 20-year-old Nathan Blenner. Nathan was found dead in a park and evidence suggested he had been kidnaped, robbed and subsequently shot in the head. Witnesses told police they had seen two men push Blenner into his car and drive away. A few days after Nathan's body was found, his car was found torched in Brooklyn, New York.
Shortly after, the two young men were arrested and falsely accused of the murder. The police employed off-side interrogation techniques while interviewing David and Willie. Scared, both Willie and David confessed to Nathan's murder, naming the other as the gunman. They would recant shortly afterwards, but to no avail. At trial they were both convicted and sentenced to 25 years to life in prison. The prosecutor relied upon their confessions as well as witness' testimony that Willie told him that he wanted to to get rid of a gun that had a "a body on it". Willie and David would go on to unsuccessfully attempt to appeal their convictions. David would spend almost 30 years in prison. He would eventually reach out to fellow wrongful conviction sufferer Rueben "Hurricane" Carter. Rueben would become an advocate for David, championing his exoneration.
Almost 30 years after their false confessions, the Brooklyn Prosecutor's office would examine 100 plus cases from the 1980s and 1990s, including Willie's and David's convictions. Upon conducting their review, the prosecutor's office found that the witness credibility was questionable, there were vast inconsistencies between Willie's and David's written and video taped statements, and that there were major contradictions between what they confessed to and what the evidence showed to such an extent that their confessions seemed implausible. As well, recent DNA tests and fingerprint analyses from the stolen car did not match either Willie nor David. When asked why he had confessed, David said he felt pressed to confess and implicate his friend after being told that Willie had done the same to him.
The review would be highly motivated by Ruben "Hurricane" Carter's bid for his exoneration. Ultimately as a result of their review, the prosecutor's office disavowed the convictions. Brooklyn supreme court justice Matthew D'Emic dismissed the conviction in October, 2014. As he dismissed the charges he said, "The evidence available to the district attorney after the investigation sufficiently convinces the court that the judgments of conviction should be vacated." After hearing the judges ruling, McCallum put his head on the defence table and sobbed. Ruben "Hurricane" Carter, also having suffered the injustice of a wrongful conviction said, "My aim in helping this fine man is to pay it forward, to give the help that I received as a wrongly convicted man to another who needs such help now." Ruben expressed. Rueben would die several months following David's release.