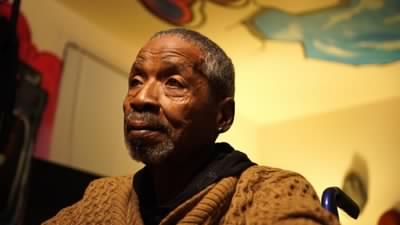 Habib Wahir Abdal, then known as Vincent Jenkins, was wrongfully convicted for rape in 1983 and was incarcerated for 16 years before he was exonerated.
On May 18, 1982, Leslie A. Werner was raped and robbed in a nature preserve in Buffalo, New York while bird watching with her husband. She described her assailant as a black man between five feet eight and five feet ten with a gap between his upper front teeth and a tenor-type voice. The assailant had blindfolded her during the assault.
Police picked up Abdal for questioning four and a half months after the crime occurred, even though he did not fit the victim's description of the assailant. Abdal was six feet two inches tall with no gap between his teeth and a deep-toned voice.
Police presented Abdal to the victim in a show-up, but the victim initially failed to identify him as her assailant. She was then shown a photograph of Abdal that was four years old. When she returned to the show-up, she identified Abdal as the perpetrator.
A forensic analyst testified at Abdal's trial that he found Abdal's eyelashes to be distinctively different from an eyelash found on the victim after the crime. However, he went on to testify that it's not unusual to have different hairs come from the same person, and Abdal cannot be ruled out as a possible perpetrator.
Talk to an Experienced Criminal Lawyer with PROVEN RESULTS.
or CALL: (416) 658-1818
Judge Frederick M. Marshall supressed the pre-trial identification, on the basis that the police identification procedure was "highly improper". Nevertheless, Marshall allowed the victim to identify Abdal in court based on a "Braille-type" recollection from touching his face during the sexual assault. No other evidence linked Abdal to the crime. Based on the victim's identification, the jury convicted Abdal for first-degree rape, sodomy, and second-degree robbery.
On November 4, 1983, Marshall sentenced Abdal to prison for twenty years to life. On July 10, 1987, the Appellate Division of the New York Supreme Court affirmed the conviction.
Abdal's lawyer, Eleanor Jackson Piel, continued to work on his case and fight for his exoneration after exhausting the state appeals. As forensic technology became more sophisticated, Piel sought for a DNA test to prove Abdal's innocence.
On February 10, 1992, Judge John T. Elfvin ordered DNA testing of vaginal swabs and slides collected from the victim at the hospital after the sexual assault. The testing was conducted in 1993 and returned inconclusive results. In 1998, new testing was arranged to be done by Cellmark Diagnostics in Maryland, but the evidence was lost in transit. Fortunately, the DNA samples prepared during the 1993 tests still existed. In 1999, a new series of tests was performed from these samples. The results showed that there were two contributors of spermatozoa, and neither of the profiles belonged to Abdal.
On August 31, 1999, Judge Elfvin ordered for Abdal's release based on the DNA testing results, although he still faced a possible retrial. State prosecutors challenged Abdal's exoneration, arguing that there may have been more than one rapist and Abdal participated in the sexual assault without ejaculating. This theory contradicted the victim's statement to the police which mentioned a single rapist who ejaculated inside of her. On November 2, 1999, Supreme Court Justice Joseph P. McCarthy sided with Abdal and dismissed the indictment.
Abdal was imprisoned for 16 years for a crime he did not commit. In January 2002, A Court of Claims action brought by Abdal for his wrongful conviction was settled for $2 million. Sadly, he passed away shortly after, dying of cancer at the age of sixty-six in 2005.