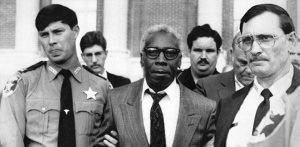 In 1968 in Arcadia, Florida, James Joseph Richardson was wrongly convicted for the murders of seven children. On Wednesday, October 25, 1967, the seven children, consumed food poisoned with pesticides. Betty, age 8, Alice, age 7, Susie, age 6, Dorreen, age 5, Vanessa, age 4, James Jr., age 2 and Dianne, age 3 all died within 24 hours. Betty and Susie were Annie Richardson's children from a previous marriage. The five youngest were Annie's and James's from their marriage.
The night before, Annie had prepared a lunch of beans, rice, and grits for the children to have the next day. In the morning the Richardsons left to go to work. A neighbour, Bessie Reece, took care of the children and fed them lunch while their parents were at work. Within 24-hours they were all dead from poisoning.
Two days after the funeral Richardson was charged with seven counts of murder in the first degree. However, due to insufficient evidence the murder warrants were dropped, and the Richardsons were formally charged with child neglect. The murder charges were laid against James again following a coroner's inquest. James maintained his innocence. He expressed that he loved his children very much.
His trial began on Monday morning, May 27, 1968. All of the jurors were white, despite numerous challenges, James's lawyer was unable to secure more diverse jury. At James's trial a number of jailhouse informants falsely testified that James had confessed while in custody. As well Bessie Reece testified providing evidence that inculpated James.
A pathologist and a chemist concluded that the children had died from the organic phosphate parathion, which was found in their stomachs and on utensils in the Richardson's apartment. The jury only deliberated for half hour later before returning on May 31, 1968, with a unanimous verdict: "Death with premeditation at the hands of James Richardson and party or parties unknown". Jurors recommended the death penalty for Richardson.
James Richardson was sentenced to die by the Court and was on death row for nearly five years. A U.S. Supreme Court ruling in 1972 found that the death penalties in the U.S. at the time were unconstitutional. His sentence was commuted to life in prison, with eligibility for parole in 1993.
Bessie Reese, was a convicted murderer who had been on parole for murdering her husband with poison when the murders of the children occurred. She had been overlooked as a suspect despite this fact. As well, the prosecutor had hid this fact at trial. Bessie would later confess to the murders.
An inquest was conducted into James's convictions. The findings of which were that James Richardson had not received a fair trial. On October 25, 1989, 21-years after his wrongful convictions, he was ordered released.
He filed a lawsuit for his wrongful prosecution, and settled for $150,000. Under new law is expected that James will be awarded $1.2 million. As of 2015, he has not yet received any payment. In 2015, a documentary film about Richardson was produced called Time Simply Passes. It tells the entire story of his life.