Murder is the most serious crime in the Criminal Code. The stakes are high. If you or someone you know are facing murder charges, you need an experienced criminal defence lawyer in your corner. Whether you are facing first degree murder or second degree murder, the first step you should take is to contact Pyzer Criminal Lawyers.
At Pyzer Criminal Lawyers, we have the experience, resources, and know-how to successfully defend charges for murder and homicide offences.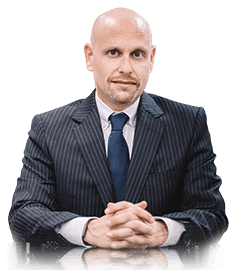 Protect Your Freedom With An
Experienced Toronto Criminal Lawyer
A Criminal Defence Team Experienced In Murder Charges
R. v. De Oliveira
In 2010, Ian Kostman successfully defended the perpetrator in R. v. De Oliveira.
The defendant Mr. De Oliveira was accused of attempted murder after pushing two youths into the path of an oncoming subway train. Fortuitously, the youths managed to escape serious injury by curling into the wall of the track area.
Mr. De Oliveira ("The Subway Pusher") was found "not criminally responsible" by the presiding judge. The defence was a complicated matter involving divergent views from Crown and defence psychiatrists. According to the Crown psychiatrist, the defendant was a malingerer who was exaggerating his psychiatric symptoms. The defence psychiatrist was of the opinion that Mr. De Oliveira was suffering from a psychotic state in which an external voice was directing him to act, and at the time of the offence, he was unaware that his actions were morally wrong. Mr. De Oliveira was committed to a psychiatric hospital and is now living in the community.
How a Criminal Defence Lawyer Can Help
When you are facing murder charges, it is essential to have a skilled criminal defence lawyer with a track record of success in criminal law matters. As the criminal offence of murder is a complex charge, a lawyer will work with you every step of the way to ensure the best possible outcome in your case. Once you have hired Pyzer Criminal Lawyers, you can expect our team to take all possible steps to mount a full defence in your case, including:
Conducting legal research
Interviewing witnesses
Reviewing and ensuring full disclosure of evidence
Preparing for trial
Negotiating with the Crown counsel
Defending the charges at trial
Contact us today to learn more about how we may be able to help in your murder case.
Why Choose Pyzer Criminal Lawyers
At Toronto Defence Lawyers, we pride ourselves on our resolute defence of serious criminal charges. It takes effective counsel to formulate and advance a complicated psychiatric defence.
Murder cases should be only handled by experienced defence lawyers with a significant track record. At Toronto Defence Lawyers, we have proven ourselves as skilled advocates in this area of the law as well as in break and enter charges. We have a reputation for success and strong results.
Contact us today to book a no-obligation consultation so we can review your case.
Frequently Asked Questions
What Is the Difference Between First Degree Murder and Second Degree Murder?
Murder is first degree murder if it is planned and premeditated, or if the murder occurs during the course of a serious offence, like forcible confinement. An intentional murder that is not first degree murder, is second degree murder. The distinction between first degree murder and second degree murder is important because the potential sentences and the elements that the Crown is required to prove are unique.
What Is the Difference Between Murder and Attempted Murder?
The difference between murder and attempted murder is that in murder charges, the Crown must prove beyond a reasonable doubt that the actions of the accused lead to the death of the victim of the offence. In attempted murder charges, these actions would have fallen short of death, but the accused must have intended to kill the victim.
What Is the Difference Between Murder and Manslaughter?
There is no specific definition for the criminal offence of manslaughter in the Criminal Code. However, the Criminal Code defines culpable homicide that is not murder or infanticide as manslaughter. This means that manslaughter occurs when an illegal act is more than an accident but falls short of an intention to kill. Manslaughter can be established typically through an illegal act or criminal negligence.
What Are the Sentences for Murder and Manslaughter?
An adult individual who is convicted of first degree murder faces a life sentence without eligibility for parole for as long as 25 years. the consequence of a conviction for second degree murder is life imprisonment without eligibility for parole for a minimum of 10 years. Murder can be reduced to manslaughter if the murder is mitigated by provocation or drunkenness. Youth sentences for murder are significantly less than their adult counterparts. However, if convicted of murder as a youth, the Crown may apply to have the youth sentenced as an adult.
How Much Does a Murder Lawyer Cost?
While defending every criminal offence has a unique cost involved, defending murder or criminal negligence charges are especially complex cases. This means that the work involved can vary significantly from one case to the next, and thus the costs involved will vary greatly as well. With the potential sentence of life imprisonment in a murder charge, you can expect to invest a significant amount in defending the offence. We recommend booking a consultation with a lawyer experienced in murder charges at Pyzer Criminal Lawyers to get an accurate quote in your case.