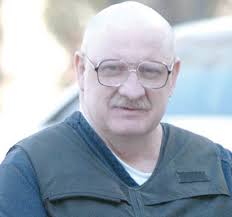 On February 15, 2001, the badly mutilated and decomposed body of 46-year-old Marie Cholette, a transient rail rider, was found in a tent in a hobo camp known as "Indian Billy's" in Van Buren, Arkansas.
An autopsy revealed that her neck was slashed and she had been stabbed many times. She had been sliced open from her sternum to her pelvic bone, exposing her intestines. Her nipples had been cut off and her liver severed. Her jaw was broken, there was a small cut under one eye, and ashes and burned debris were found inside her pelvic region. In addition, the Crawford County medical examiner concluded that she had suffered extensive trauma to her vagina and anus—both of which had been cut out of her body.
The murder was shocking both for its brutality and because murders were rare in the mostly rural county located on the western border of Arkansas.
Among those interviewed by Van Buren police that day was 43-year-old Rickey Dale Newman. Newman also was a transient rail rider, although he had grown up in the area and still had family nearby. Newman said that several days earlier, he and Cholette had gone to an area of Van Buren known as "T-Camp." There, they met up with three men he knew only as "Psycho," "Snake," and "Copperhead." Newman told police that Cholette and the three men huffed paint, and began talking about satanic worship and the need to perform a "human sacrifice once a week." He said he left because the men were acting "crazy." Newman also said that the men had said they were staying at Indian Billy's.
Police interviewed Newman again on March 2, 2001. The detectives said they had learned that on February 7, Newman and Cholette went to the home of Newman's uncle, who drove them to the Shamrock Liquor Store. Video surveillance from the store showed Newman and Cholette buying wine and cigarettes. A detective asked the whereabouts of the navy blue jacket he was wearing at the time. Newman said he had traded it to someone at a mission near the railroad tracks where transients could get meals and spend the night.
During the interrogation, which was videotaped, Newman said, "I'll never say I did it...Psycho probably did it. Rickey Newman didn't do it." However, after the detectives falsely told him that they had physical evidence linking him to the murder and promised him help for his mental health problems, Newman ultimately admitted his guilt—although he gave no details about how the crime was committed.
Newman was charged with capital murder. A search warrant was executed at the home of his sister to obtain articles of his clothing. At his arraignment on March 27, 2001, Newman appeared without a lawyer. When Crawford County Circuit Court Judge Floyd Rogers asked him if he was able to hire a lawyer, Newman replied, "I waive all my legal rights, Your Honor. I plead guilty to these charges."
Judge Rogers then appointed attorney Robert Marquette to represent him. Marquette requested a mental health evaluation at Arkansas State Hospital—the facility that historically handled such evaluations for the prosecution—and did not request an independent evaluation. Newman was found to be competent to stand trial. Marquette, however, had failed to forward to the mental health evaluators any background information on Newman, who had endured a childhood so tortured that he refused to wear new clothes. He didn't know his biological father, and his mother died when he was 12. He never received better than D's or F's after the first grade. He was turned over to state authorities and ultimately adopted when he was in his early teens.
At a hearing on May 9, 2001, Newman announced that he had fired Marquette. He was allowed to represent himself, although Judge Rogers said Marquette would stand by to answer questions and provide advice.
In the months leading up to his trial, Newman wrote numerous letters to the judge and the prosecutor. In the first two or three letters after his arraignment, Newman admitted his guilt. But most of the letters asked for or demanded to know the evidence against him. He asked for the death penalty "if the evidence shows I did it."
In March 2002, the prosecution turned over the police arrest report, an autopsy report, the report of his mental evaluation, and some crime lab reports. He also was given crime scene photographs.
In May 2002, without informing Marquette, the police and prosecution interviewed Newman in an attempt to get more details about the crime. However, Newman was unable to provide any information beyond what he had gleaned from studying the crime scene photos and other reports previously turned over. Even so, Newman managed to get facts wrong. He said he had drugged Cholette and "punched her eyes out" with a knife. He said she passed out and he "sacrificed her" inside the tent. He said he killed her because she falsely claimed to be a member of the Freight Train Riders of America. None of these claims was true.
Newman went to trial on June 10, 2002 in Crawford County Circuit Court. By day's end, he was convicted of capital murder and sentenced to death. The entire trial—including jury selection, presentation of evidence, the jury's deliberation on guilt, and the jury's separate deliberation on punishment—was completed in one day.
Newman insisted on wearing prison garb and shackles during trial. Officer Brent Grill, who had interrogated Newman when he admitted to the crime, testified that Newman never asked about the murder—suggesting that was because he had committed the crime. Grill noted that during the May 2002 interview, Newman mentioned a package of hot dogs on the table in the tent. A review of crime scene photographs showed he was correct, which Grill saw as evidence that Newman killed Cholette. Grill said that Newman could not describe Psycho, Copperhead, and Snake, suggesting that his initial account of their involvement was false.
A crime lab analyst testified that a head hair recovered from a sleeping bag in the tent where Cholette was found was microscopically similar to Newman's hair. In addition, two hairs found on Newman's clothing were said to be microscopically similar to Cholette's hair.
The jury was also shown the crime scene photographs. Detectives testified that blood spatter found on the tent was evidence that Cholette was killed there. The medical examiner said that Cholette had numerous bruises that were defensive wounds indicating she had struggled before she was killed.
Dr. Charles Mallory, a psychologist at Arkansas State Hospital, testified that he evaluated Newman and found that he did not suffer from a mental disease or defect. Mallory said that wanting to confess to a crime and be sentenced to death was not in itself a symptom of mental disease.
Newman testified and told the jury: "I bought her alcohol. I drugged her up. I got her drunk and I killed her. Cut her from head to toe. I killed her more than once. I killed her until I got tired of killing her, until the passion of blood went away. Then I left it (to) lay like and dog and walked away. Washed my hands of the whole affair."
Newman added, "I killed her. When I told officer Grill that Psycho killed her, that was a lie. According to all of these experts, there is no Psycho. I know there's a rage in me."
During closing arguments, the prosecutor suggested that Newman killed Cholette as part of a sex crime after she rejected his advances. Newman then became so disruptive that the judge ordered him gagged with duct tape. After the jury convicted him, Newman testified during the sentencing hearing.
"I, Rickey Newman, freely tell the jury that I killed the lady in cold blood. I first cut her a little at a time to make it hurt and then I stabbed her for fun and to watch her bleed," he declared. "Then I cut her from her neck to her groin, and then I took some of her insides out and cooked some of her organs to see how long they would cook…I enjoyed murdering her very much and I had a lot of fun killing her and making her hurt real bad."
The jury sentenced him to death.
Newman unsuccessfully tried to waive his right to appeal. In 2003, the Arkansas Supreme Court upheld his conviction and sentence. During a subsequent hearing to consider appointing a lawyer to handle post-conviction proceedings, Newman again sought to waive all attempts to appeal his conviction and sentence.
The Supreme Court remanded the case to the trial court to allow for another evaluation by Dr. Mallory at Arkansas State Hospital. After Dr. Mallory found Newman competent, Newman was allowed to waive his post-conviction rights.
However, attorney Julie Brain was later appointed to represent Newman. In 2005, Brain filed a 144-page federal petition for a writ of habeas corpus.
The petition outlined a litany of evidence that Newman was not only mentally incompetent to stand trial, but that he was innocent of the crime.
As to the issue of competence, evidence showed that Dr. Mallory not only used the wrong tests to determine Newman's competency, he improperly administered and graded them, resulting in a higher IQ score. The proper tests, when correctly administered, showed his IQ at 67, which is considered mentally impaired.
Newman's trial lawyer, Robert Marquette, failed to investigate the case or call witnesses who would have said they saw Newman eating at the transient mission less than four hours after he was seen with Cholette in the liquor store. His clothes—the same ones he was seen wearing in the liquor store video—had no blood on them.
DNA testing showed that the hair found on Cholette was hers, and the hairs found on Newman were his. DNA tests on semen found on the blanket in which Cholette's body was wrapped excluded Newman. The DNA profile was submitted to the FBI DNA database, but no match was found.
Moreover, analysis of the blood splatter evidence showed that Cholette was killed elsewhere and then brought to the tent. At the same time one witness saw Newman at the mission eating a meal, another witness reported being at the spot where Cholette was later found but the body was not yet there.
Marquette allowed jurors (eight out of the 12) to be seated who were already aware of the case. Some even knew that Newman had admitted to the crime and had been found competent to stand trial.
Marquette also failed to introduce the videotapes of Newman's police interrogations. Had he done so, the jury would have seen that Officer Grill testified falsely when he said Newman never asked about the crime or described Psycho, Copperhead, and Snake. In contrast to Grill's trial testimony, the video showed Newman asking such questions numerous times and also providing detailed descriptions of Psycho, Copperhead, and Snake.
The videos would also have shown that Newman's limited descriptions of the crime and the crime scene were factually inaccurate. For instance, he said he stabbed Cholette's eyes out with a knife, yet the autopsy showed no such injuries. Newman said that he put leaves around Cholette's body and set fire to them. However, the body had no burn marks and had not been set on fire. The only finding that related to fire was that some ashes were found inside the body cavity.
The package of hot dogs on the table—which Grill testified was a fact only the killer would know—was clearly visible in one of the crime scene photos that Newman had studied prior to his trial.
In addition, the prosecution failed to disclose several pieces of evidence favorable to the defense. The prosecution did not inform defense counsel that the detectives suspected that Cholette was killed elsewhere and brought to the tent.
In January 2001, the month before her death, Cholette stabbed Copperhead during a fight. Copperhead was later looking for her and claiming she stole his wallet. A few days before Cholette was killed, Copperhead was arrested while carrying a hatchet and two knives. In addition, not long before her death, Cholette went to the Crawford County Jail to visit her boyfriend, John Evans. Another friend, Orieste Baker, went there to meet her. Baker later said that she arrived in a car with two men. Baker later said she told him she was afraid of them and that one was repeatedly raping her. None of these facts were disclosed to the defense.
Ultimately, the federal court found that Newman had failed to exhaust his state court remedies. Newman then petitioned the Arkansas Supreme Court for permission to seek a writ of error coram nobis, alleging he was incompetent at the time of trial and that the prosecution had withheld exculpatory evidence. In the petition, Newman acknowledged he had sought to be executed, but said it was because his impaired thinking made him believe that death was more bearable than continuing to live.
Newman was allowed to pursue coram nobis relief. During a hearing, Dr. Pablo Stewart, a forensic psychiatrist, testified that Newman suffered from post-traumatic stress disorder, cognitive dysfunction, major depression, and substance abuse. Dr. Ricardo Weinstein, a forensic neuropsychologist, testified that Newman's IQ is 67, putting him in the range of mental disability and cognitive deficits that make it difficult to identify problems or determine what is and what isn't important. The state presented Dr. Clint Gray, a forensic psychiatrist at the Arkansas State Hospital who said that while Newman is mentally deficient, he was competent to stand trial in 2002.
In July 2011, Crawford County Circuit Judge Gary Cottrell denied the petition, ruling that Newman was competent and that the state had not concealed evidence favorable to the defense.
Newman appealed and in January 2014, the Arkansas Supreme Court vacated Newman's conviction and death sentence. The court agreed with the defense experts who concluded that Newman's IQ was in the range of mental disability and that he suffered from major depression and post-traumatic stress disorder.
"After reviewing the entire record, we are left with a definite and firm conviction that a mistake was made," the court declared. "Taking everything into account, we are persuaded that the record overwhelmingly illustrates that Newman's cognitive deficits and mental illnesses interfered with his ability to effectively and rationally assist counsel."
In January 2017, Judge Cottrell granted a motion by defense attorney Julie Brain to bar the use of Newman's videotaped confessions at a retrial. "[B]ased on Mr. Newman's condition at the time he made those statements," the judge ruled, "he suffered a mental disease and mental deficits wherein he could not give a knowing or voluntary consent or statement because of that mental condition."
The prosecution appealed and Judge Cottrell's ruling was upheld. On October 11, 2017, the prosecution dismissed the charge.