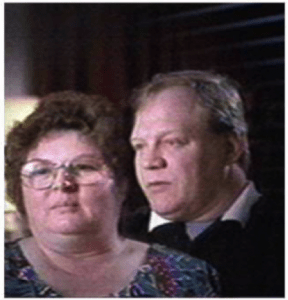 "Our life can never be normal. We've lost two years of our lives."- Ron Sterlings
In 1992, a mother in Martensville, Saskatchewan alleged that a local woman (Linda Sterling) who ran a babysitting service in her home, had sexually abused her child. Upon notice, the police began an investigation while similar allegations continued. Eventually, over a dozen people, including five police officers, faced over 100 charges connected with running a Satanic cult called, "The Brotherhood of The Ram", which allegedly practiced ritualized sexual abuse on children at a "Devil Church".
Subsequently, an investigation conducted by the police elicited similar allegations to the original 1992 claim, from various children in the Sterling's care, including stories of murder, animal mutilation and Satanism. Specifically, five children testifying against Ron Sterling alleged that they were forced to partake in ritualized sexual actions and that he also abused two others who did not testify. In total, he was charged with the abuse of five boys and two girls. Similarly, six children testified against Linda Sterling and alleged she abused three others, who did not testify. In total, the couple was charged with 32 crimes against 11 children.
In an attempt to prosecute the couple and alleged accomplices, an investigatory team of a police officer, a therapist, and two Crown prosecutors arrested 16 adults. However, 18 months later, all charges were stayed against the defendants, because the children were too traumatized to undergo trial. Therefore, in 1994, the defendants, unable to clear their names, filed suit for malicious prosecution against the members of the investigatory team, and in 2003, nearly 20 years after the case began, the Saskatchewan Court of Queen's Bench found on behalf of the 16-people accused of abusing the children. The court held that the investigatory team had no reasonable basis for pursuing charges against the accused. More significantly, the Court determined that the claims of Satanism proved unfounded and the police were involved in asking the children leading questions and praising them for giving incriminating answers. Additionally, it was found that prosecutors had gone ahead with charges despite police misgivings about the veracity of the claims. Subsequently, the Royal Canadian Mounted Police task force concluded that the original investigation was motivated by "emotional hysteria". Therefore, as a result of the defendant's suit of wrongful prosecution Ron and Linda Sterling received $924,000, though the government did not admit liability in the settlement.
Finally, one of the most alarming realities of the Sterling's ordeal is the way in which the investigation was carried out, and the prosecutor's acceptance of the process. Expert testimony condemning the interviewing techniques of police and social workers who conducted the investigation stated that videotaped interviews of children witnesses were suggestive, leading, and coercive. This finding thus raises serious doubts about the accusations that emerged. It was further determined that prosecution was aware of the investigation practices, but decided to rely on evidence to prosecute the Sterling's.