TAVIS  is Toronto Anti-Violence Strategy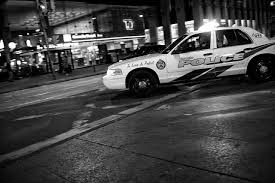 TAVIS is a provincially-funded, Toronto wide initiative led by the Toronto Police Service.
As explained on the Toronto Police, it is intended to reduce crime and increase safety in Toronto communities most plagued by crime.
TAVIS began in 2006 as a way to combat gun violence following a doubling in the number of gun related homicides occurring in Toronto in 2005.
It comprises three rapid response teams that can be immediately deployed into areas where gun violence is occurring  as well as additional TAVIS  police officer presence in high-crime neighbourhoods during the summer months.
How does TAVIS work?
According to Toronto Police TAVIS is implemented in areas experiencing an increase in the rate of the occurrence of violent activity.
When TAVIS is initiated in a community, it is implemented in three phases.
Phase One: additional Toronto Police Officers are assigned to the area deemed to be experiencing an increase in violent activity
Phase Two: Once the neighbourhood is deemed safe, maintenance level enforcement continues. This phase includes collaborations between the Toronto police service and city and community member and organization.
Phase three: the Toronto police service presence is again normalized as a support system to a community that has been empowered to reduce violent activity.
TAVIS has been implemented in areas such as Keele and Eglinton area of 12 Division and the Jane-Finch Area of 31 Division as well as other high-crime neighbourhoods.
According to the Toronto Police these neighbourhoods are selected because they were experiencing a disproportionate level of criminal activity for their size.
Talk to an Experienced Criminal Lawyer with PROVEN RESULTS.
or CALL: (416) 658-1818
What does TAVIS mean by "community mobilization"?
TAVIS is led by the Toronto Police Service and involves other organizations like Toronto Community House and City of Toronto Divisions such as Parks, Forestry and Recreation, Toronto Public Health, Social Development, Finance and Administration and Toronto Office of Partnership.
They involve these organizations as well as people living and working in these neighbourhoods to encourage community efforts to lower crime rates within communities affected by higher than average violent crime rates
It is intended to encourage the communities to work together to improve neighbourhoods
 Is TAVIS effective?
In theory TAVIS seems like a decent strategy. However the police have never been able to produce any verifiable data on what TAVIS has accomplished.
It has introduced a number of controversial police practices. These practices, such as carding and increased police presence, have been widely criticized.
It has been criticized for increasing tension between the police and residents in areas where TAVIS has been implemented.
 Members of these communities have voiced that they feel targeted and harassed by TAVIS presence.
This criticism has been noted and as of January 2016 there has been an almost 50% decrease in the Ontario budget  for TAVIS, while  the police budget as a whole increased.
TAVIS now has an annual budget of  $2.6 million rather than $5 million.
Eventually provincial  funding for the program will be eliminated and preventative strategies will be funded instead, favouring community prevention over hard-line approaches like TAVIS.
 As well,  as of March 2016, new carding regulations made it illegal to randomly and arbitrarily card someone. These new regulations will take effect January 1st 2017.
Lauren Callighen, spokesperson for the minister of Ministry of Community Safety and Correctional Services said "We believe that the best way to prevent crime and keep our communities safe is to work with local groups and prioritize community-based crime prevention and youth engagement- by giving communities the ability to allocate funding where it is needed most."
 It is unclear what will become of TAVIS, that is whether the Toronto Police will continue to fund the strategy out of its own $47.6 million annual budget, that saw a $4.7 million dollar increase this year.
Hulya Genc studied philosophy at York University and is a certified mediator. She is pursuing a career in law, with the intention of practicing criminal law.