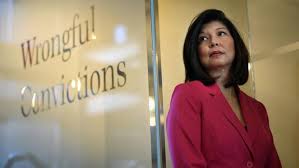 In 1991 Maria Shepard was wrongfully convicted of manslaughter for killing her three-year-old stepdaughter. She spent 25 years fighting to exonerate herself.  In April 1991 Maria's step-daughter, Kasandra, who had been ill for a long period of time,  had begun vomiting and became unresponsive as she passed into a come . She was admitted to hospital where died two days later. Dr. Charles Smith was then the paediatric pathologist at Sick Children's Hospital. He conducted Kasandra's autopsy and told the police that Kasandra had died as a result of abuse, involving a blow or blows to the head. Maria was on of many victims of now disgraced pathologist Charles Smith. Smith gained notoriety for his misleading expert medical findings, that lead to multiple wrongful convictions before his findings were revealed to be significantly flawed.
On April 24, 1991, Maria Shepherd, 21 years old, was charged with manslaughter in Kasandra's death. At Maria's trial Smith concluded that Kasandra had died from trauma due to at least one blow of "significant force. As well during the investigation Maria had told police she pushed the child once, with her wrist and watch hitting the girl on the back of the head. With Smith's testimony and her own admission Maria feared that she would be found guilty. Under extreme pressure, Maria pleaded guilty mid-trial to manslaughter. At the time of her trial in 1992, Maria had three children of her own. On October 22, 1992, she was sentenced to imprisonment for two years less a day.  She was released on parole on June 21, 1993.
It wasn't until February 29, 2106 that Maria, represented by defence lawyer, Innocence Canada's James Lockyer, was formally acquitted by The Ontario Court of Appeal. The decision in favour of Maria came after a short hearing. The Court of Appeal for Ontario took only a few minutes to make its decision. In Maria's case both the Crown and Defence put forward a mutual recommendation for Maria's acquittal, as Crown attorney Howard Leibovich agreed with the defence's position.
Afterward Maria said she was "elated" by the decision after wearing the label of "baby killer" for more than two decades."This didn't come without a lot of quiet tears and anguish at home," she said. "I am innocent. I didn't do anything but care for Kasandra. I loved her as if she was born to me."
"I did not cause Kasandra's death, and my conviction for doing so has haunted me ever since," Shepherd said in a recent affidavit. "The best thing for all these 25 years is that my family – my husband, Ashley, who was Kasandra's father, my son Jordan , my daughter Natasha, Chelseaand Chanel – have supported me. They will all be with me at the appeal today. These have been painful years for us all. Kasandra was an important and special member of our family. We loved her. We believe that she is with us today and that she can now finally rest in peace."
Smith would lose his medical licence in 2011. The theory now is that Kasandra may have had a previous brain injury that caused seizures or that she suddenly developed a seizure disorder that killed her.