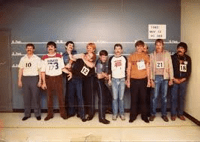 Ivan Henry was wrongfully convicted of sexual assault, which included a series of violent sexual assaults and multiple rapes in 1983. The attacks he was accused of committing occurred between May 1981 and June 1982 and were inflicted on women living in ground floor basement apartments in the Mount Pleasant, Marpole and Kitsilano areas. The flawed police investigation of the remarkably similar sexual assaults in the four Vancouver cities is arguably what lead to Henry's conviction. As Henry's civil suit suggested, the police had tunnel vision and rather than pursue a suspect, with a history of late night sexual predatory behaviour, officers charged the more likely suspect with trespassing and continued to focus on Henry. Describing his May 1982 arrest, Henry claimed he was escorted to the police station without the opportunity to speak to a lawyer. It is there that he claims he was forced into a lineup, held in a headlock by an officer, and was viewed by the eleven sexual assault victims. The line up, which was later revealed to include only Henry and uniformed officers, was viewed by the victims who identified Henry. This positive identification resulted in Henrys conviction and designation as a dangerous offender, making his sentence indefinite.
Nevertheless, while Henry was serving out his sentence, sexual assaults of a similar nature to what Henry was convicted of continued in the same Vancouver communities. Though no charges were laid during this time, in 2002 the police re-opened its investigation. Through "Project Smallman", DNA evidence was discovered that led police to the same man they dismissed during their original investigation. The same man was linked to the additional sexual assaults through DNA and plead guilty in 2005 and due to the similarities between those offences and the ones Henry was convicted of, his case was reviewed. Following this review, the B.C. Court of Appeal accepted a 2009 application to hear Henry's case and quashed his convictions.
The following year, Henry filed a civil lawsuit in B.C. Supreme Court seeking $30 million in damages and accusing three police officers of "gross negligence and malicious and wilful misconduct" in their "reckless" pursuit of him. Also named in the civil suit was the City of Vancouver, the Attorney General of Canada, and the B.C. Attorney General, whom Henry accused of malicious prosecution. In the 130-page ruling of Chief Justice Christopher Hinkson of the B.C. Supreme Court, it was revealed that the Crown withheld key evidence including police notes, reports, lab information, interviews, and witness statements that Henry was entitled to receive. Furthermore, the Crown omitted telling Henry or his lawyer that a police detective believed one of the victims was assaulted by a different person. Chief Justice Hinkson stated that "If Mr. Henry had received the disclosure to which he was entitled, the likely result would have been his acquittal at his 1983 trial … and certainly the avoidance of his sentencing as dangerous offender." As a result of this miscarriage of justice, the B.C Supreme Court ruling ordered the provincial government to pay Henry $530,000 for lost earnings, $56, 700 in special damages and $7.5 million for "vindication and deterrence" when it came to his charter rights being violated. However, while both the city of Vancouver (representing the police department) and Ottawa agreed to the settlement the province is still fighting the ruling of the civil lawsuit.