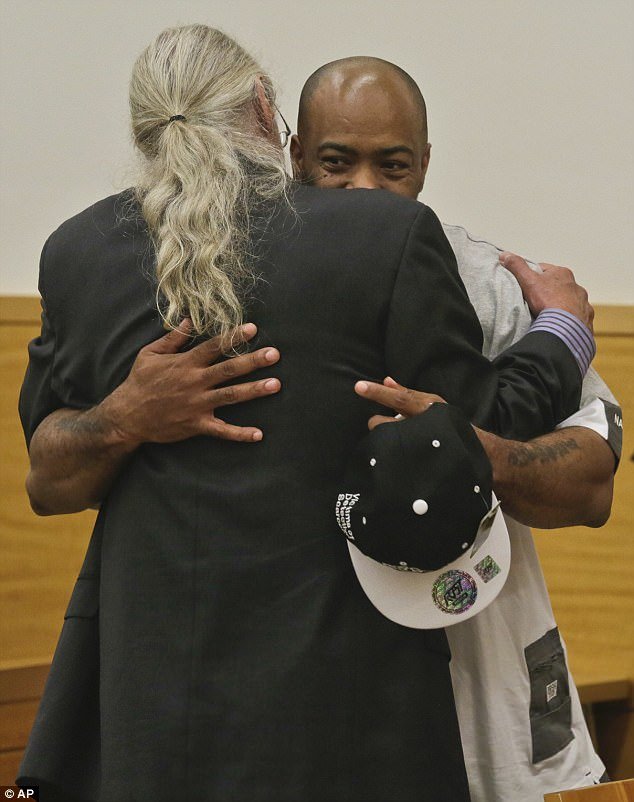 On January 21, 1995, several armed men looking for drugs and cash staged an apartment invasion in a public housing development  in the Brownsville neighbourhood of Brooklyn, New York.  Two of them began shooting, wounding five of the occupants —most shot several times—and killing 40-year-old Ronald Ellis.
A year later, in February 1996, seven men were charged with murder, attempted murder, and robbery, including 22-year-old Jabbar Washington, identified by the other defendants as being involved.
New York Police Detective Louis Scarcella, whose conduct in a vast array of cases would later be called into question, arrested Washington who he reported had confessed to being involved in the crime.  Testifying before a grand jury, Scarcella  said that Washington had been identified in a live lineup by 26-year-old Lisa Todd, who had been in the apartment at the time of the crime and survived nine gunshot wounds.
However,  testifying later in the trial, Todd told the prosecutor who was presenting witnesses that in fact she had  identified Washington in the line up only as a person who lived in the building where the crime occurred. The prosecutor made note of her comment.
Nonetheless, in March 1997, during Washington's trial in Kings County Supreme Court, Scarcella again testified that Washington confessed to taking part in the crime and  that Todd had identified him as being among those who raided the apartment.
Despite the fact that Todd testified --as did other victims --that none of the invaders could be identified because they all wore masks,   since the prosecution had failed to disclose to the defense that Todd had told the grand jury prosecutor that she had not identified Washington as taking part in the crime, Washington's lawyer did not have that evidence to confront Scarcella when he said Todd had identified Washington.
In fact, during cross-examination, Washington's defense attorney asked Scarcella whether getting a confession was important in the case. Scarcella replied that if Washington "didn't get ID'd, it would have been…"
Washington took the stand and testified, denying involvement in the crime. He told the jury that Scarcella had extracted a false confession by beating him.  He said that at the time of the crime, he was with his girlfriend, a statement confirmed by his girlfriend.
During closing argument to the jury, Kings County prosecutor Kyle Reeves depended heavily on Todd's identifying Washington.
On March 19, 1997, the jury convicted Washington of second-degree murder, second-degree attempted murder, and first-degree armed robbery.  He was sentenced to 25 years to life in prison.
In 2011, Kings County District Attorney Charles Hynes created a Conviction Integrity Unit, and invited defense attorneys to present cases in which innocent defendants may have been convicted.
A few months later, The New York Times published an article accusing Scarcella of misconduct in many investigations, including fabricating evidence, coercing witnesses, and concealing evidence of defendants' innocence. The article reported that the same prosecution witness had somehow testified as an eyewitness in six separate murder cases. The report prompted the Brooklyn Conviction Integrity Unit to re-investigate 57 cases in which Scarcella was involved, a  review eventually expanded to include more than 100 of Scarcella's cases.
In late 2015, New York attorney Ron Kuby requested that the conviction review unit re-investigate Washington's case.  On July 12, 2017,  Brooklyn District Attorney's office announced that the conviction review unit had filed a motion to vacate and dismiss Washington's case:
"An analysis of the jury trial revealed that, despite the fact that an identifying witness recanted her identification within days, the jury was improperly given the strong impression that she did identify the defendant as a perpetrator and a crucial document in which she disputed the identification was not turned over to the defense."
"Following a thorough and fair investigation by my Conviction Review Unit, it was determined that Mr. Washington did not receive a fair trial and crucial information that would have been useful to the defense was withheld."
The statement noted that these and other issues resulted in an unfair trial.
The conviction review unit also examined the cases of the six others involved in the case.  All six were either convicted at trial or pleaded guilty, and sentenced to prison terms ranging from 12 years to life in prison.  No evidence was found that warranted vacating those convictions.
Washington was the 23rd defendant whose conviction was vacated as a result of the conviction review unit's re-investigations, in eight of  which Scarcella was involved.