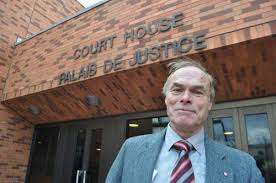 In 1993 Jack White was wrongfully convicted of sexual assault. He had been working at Huronia, a facility for youth with developmental disabilities for twenty-three years with an exemplary record of employment, when it was alleged that he sexually assaulted one of the residents.  The allegations arose after several events that made Jack a target at work. He had assisted the police in their investigation into a death of a resident, testifying against his college at his manslaughter trial. He also co-authored a report acknowledging his college's abuse and mistreatment of residents.  One of his colleges named in the report, alleged that he had observed Jack sexual assaulting one of the residents in the showers. He claimed to have witnessed Jack fondling her breasts and making sexually suggestive remarks. Jack denied the allegations. The resident was mute and unable to verify Jack's innocence.
Jack was subsequently charged with sexual assault. At his trial the Crown presented the evidence against Jack, the bases of which was his colleague's testimony. Jack's defence counsel failed to present counter evidence, despite having ample evidence available to demonstrate Jack's innocence. His lawyer failed to properly investigate the facts, identify the issues and ascertain his client's objectives. The jury found Jack guilty on March 28th 1995. He was sentenced to a suspended sentence as the judge found that his dedication to Huronia residents was exceptional. Although he was found guilty he was not incarcerated.
As a result of the finding of guilt against him, Jack lost his job. Jack maintained his innocence and fought to overturn his conviction. It wasn't until seventeen years later that after ten appeal attempts and documents filled in support of his innocence with, the arbitration board, the Ontario Court of Appeal, the Divisional Court of Ontario, the Supreme Court of Canada and the Federal Minister of Justice, that he final had some success. In May, 1999 at an arbitration hearing before the Grievance Settlement Board, the board ruled that there was overwhelming evidence in support of Jack's innocence, and that his guilty verdict was a result of his lawyers failure and his colleague's ill will. Despite this finding Jack was unable to go back to work, or get back pay as it was found that a criminal conviction could not be overturned in this way by an arbitration board.
Jack went on to be officially pardoned by the National Parole Board in 2006, while helpful, it was not the acquittal Jack was seeking. Eventually with the assistance of AIDWYC, on December 3, 2009 the Supreme Court of Canada ordered that the Ontario Court of Appeal reconsider Jack's case. At his new trail, Jack's defence was successful at undermining the credibility of Jack's colleague. The Court of Appeal overturned Jack's conviction and ordered a new trial. On November 26, 2010, before Jack's new trial commenced, the Crown withdrew the charge stating that there was "no reasonable prospect of conviction."  Seventeen years following his colleagues damning false allegation, Jack had successfully cleared his name. Jack said "For the last seventeen years, that was the day I was living for."