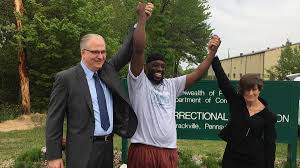 When Shaurn Thomas was only 18 years old he was falsely accused of a brutal execution style murder that happened nearly two years prior to his arrest, when he was only 16 years old.
It was alleged that  Shaurn was involved in the  November 13, 1990, murder of 78-year-old Domingo Martinez. The allegations were that a car with three men inside rammed Martinez's car from behind and when he stopped, two men emerged from the other car and one of them shot Martinez through the windshield. The two men removed a dying Martinez from his car and robbed him of his car and a substantial amount of money he had on him for his three businesses.
The case would be cold for two years, until in October of 1992, police arrested Nathaniel Stallworth on an unrelated charge. Nathanial would confess to knowledge of the murder saying his cousins that John and William Stallworth, as well Clayton "Mustafa" Thomas and his brother, Shaurn Thomas, who was 16 at the time of crime, were responsible for the brutal murder.
John Stallworth was arrested shortly after. He would implicate  Clayton and Shaurn Thomas, as well as his brother, William Stallworth, and a man named Louis Gay. Later the police would determine that Gay could not have been involved because he had been in police custody on the day of the murder. Despite this, they allowed John to amend his confession.  Both William Stallworth and John Stallworth pleded guilty to third-degree murder and agreed to testify for the prosecution in relation to their three co-accused at their trial. Shaurn Thomas was falsely charged with murder, robbery, conspiracy, and illegal use of a weapon.
At his trial, Shaurn Thomas's criminal defence lawyer would argue an alibi defence. He told the court that at the time of the alleged murder Shaurn could not have been there as he was checking into a centre for juvenile offenders after being arrested the night before on an unrelated offence. Shaun's defence lawyer was able to  present a copy of a subpoena that he said Shaurn had signed. The defence lawyer did not call Shaurn's mother or sister, who could have testified that Shaurn was in court waiting for his initial appearance when Martinez was murdered.
Despite his alibi on December 19, 1994, Shaurn and his brother Clayton Thomas were convicted of second-degree murder, robbery, conspiracy, and illegal use of a weapon. Both were sentenced to life in prison without parole. Shaun maintained his innocnece throughout the ordeal, rejecting an early plea deal that would have gotten him a 10-year sentence. They would go on to appeal, but their appeals were rejected.
The Pennsylvania Innocence Project would assist Shaurn Thomas's, convinced of his innocence because of his solid alibi.
Finally in 2011, Shaun would have some luck as William Stallworth recanted his testimony, saying that he had testified falsely to improve his sentence . As well a handwriting expert examined Shaun's subpoena and concluded that the signature was Shaun's. Following which a  petition seeking to vacate Shaurn's conviction was filed and rejected. In 2016, while that decision was being appealed, the Philadelphia County District Attorney's Office conviction integrity unit agreed to re-investigate Shaurn's case.
During that investigation, the prosecution discovered a police file in the case that had been missing for more than 20 years. This file contained pertinent information that had never been disclosed, suggesting that other men were in fact the ones responsible for the murder.  The prosecution concluded that Shaurn's alibi was truthful. On May 23, 2017, the prosecution requested that Shaurn's convictions be vacated. On June 13, 2017, the prosecution dismissed the charges. Shaurn's brother, Clayton, who had no alibi for his whereabouts on the day of the crime, remains in prison.