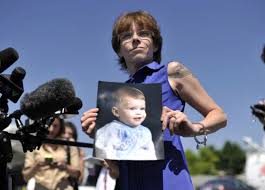 When Tammy Marquardt was just 22 years old she was wrongfully accused and convicted of murdering her two and half year old son, Kenneth. It was alleged that Marquardt suffocated her son causing his death. After her exoneration, Marquardt's version of events were accepted as true. According to Marquardt the events that transpired leading up to her son's death on the afternoon of October 9, 1993 were that she went to check on Kenneth as he was napping. When she attended his room she found him tangled in sheets, gasping for breath and in severe distress. She attempted to to free him but was unable to. She then called 911. The operator instructed her to perform CPR, but she was unable to follow the instructions properly as she was too panicked. Kenneth was taken to hospital by emergency responders, he was revived but the doctors determined that he had suffered irreversible brain damage. Shortly after Kenneth was taken off life support and passed away.
Marquardt had the misfortune of having Kenneth's autopsy preformed by now infamously disgraced pathologist Charles Smith. At the time Smith was considered a renowned expert on criminally suspicious paediatric deaths. Smith concluded that Kenneth's cause of death was non-accidental asphyxia. On November 23 1993 tammy was arrested and charged with second-degree murder.

Talk to an Experienced Criminal Lawyer with PROVEN RESULTS.
or CALL: (416) 658-1818
At Marquardt's trial Smith testified, providing expert evidence that Kenneth's cause of death was by strangulation or smothering. The Crown proposed that Marquardt had strangled her son in a loss of temper. The defence argued that Marquardt was innocent, pointing to his pre-existing health problems of asthma, pneumonia and epilepsy as a possible cause of death. The Crown's proposed narrative, along with Smith's testimony was more compelling to the jury. On October 24, 1995, Marquardt was convicted of Kenneth's murder. She was sentenced to life in prison without the possibility of parole for 10 years. The defence went on to appeal her conviction to the Ontario Court of Appeal but was unsuccessful as on January 22, 1998, her appeal was dismissed. Marquardt was reliant on Legal Aid Ontario. She was unable to make an application for leave to appeal to the Supreme Court of Canada, as Legal Aid would not provide funding for her application.
Marquardt maintained her innocence and while she was incarcerated Charles Smith was beginning to be discredited. His findings were being called into question in a number of criminal cases for which he had provided expert testimony against accused. In 2004, Tammy applied to AIDWYC for assistance.  AIDWYC successfully urged a full public inquiry into Smith's work on behalf of Marquardt and other wrongfully convicted in connection with Smith's autopsies. Although the process was slow on June 7, 2005 Marquardt had some success, as a formal review would be conducted of criminally suspicious child deaths for which Smith had performed the autopsy.
On October 2007 a report was released pursuant to the review of Smith's findings in Kenneth's autopsy. It stated that Smith's finding of asphyxia was "illogical and completely against scientific evidence-based reasoning." And that "[t]here is not sufficient evidence for the diagnosis of asphyxia to be made. A further review was conducted that concluded that Smith had wrongly attributed Kenneth's death to homicidal asphyxia, and that Kenneth may have died during an epileptic seizure or from other natural causes.
On February 10, 2009, armed with these findings AIDWYC brought an application for leave to appeal Tammy's case to the Supreme Court of Canada. This request was granted and on March 12, 2009, Tammy was released custody pending the decision on her application for leave to appeal to the Supreme Court of Canada. On April 30, 2009, the Supreme Court of Canada issued an order remanding the case to the Court of Appeal for Ontario for consideration of the fresh evidence and a determination of whether Tammy's conviction constituted a miscarriage of justice. On June 7, 2011, the Ontario Court of Appeal overturned her conviction and ordered that a new trial.  The trial never occurred as the Crown withdrew the charges against Tammy, based upon the reviews of Kenneth's autopsy and the implications of the new findings.  After nearly fourteen years Marquardt was finally free from the possibility of a further wrongful conviction.