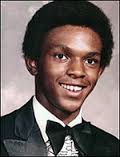 Timothy Brian Cole was wrongfully convicted of rape and sentenced to 25 years. He would spend 23 years incarcerated before dying  in 1999, while still incarcerated, before having the chance to clear his name.  More than 9 years later DNA evidence from the crime would prove Timothy's innocence.
The allegations against Timothy arose out of an incident that occurred on March 24, 1985, when Michele Mallin a 24-year-old Texas Tech student was parking her car in a church parking lot across from her dormitory in Texas. She alleged she was approached by a black man, who asked her to help him boost his car. She explained the man gained entry into her car and held her at knifepoint. It was alleged that he then drove her to a vacant field outside of town,  and sexually assaulted her.  Afterwards he drove her back to her dormitory and robbed her. During her statement to the police Michelle's description of the perpetrator was not very detailed. She described him as a young black man wearing a yellow shirt and sandals. As well, she said that he had smoked cigarettes throughout the attack.
At the time the time the police were investigating a potential serial rapist, suspected in four other attacks that had occurred on Michelle's campus. Composite sketches based on the descriptions from the victims appeared in the campus newspaper.Timothy was a student at the same university, studying business at the time. During the night of Michelle's sexual assault he had an alibi, as he had been witnessed by many people, studying at his brother's residence.
At this time the police also began to conduct surveillance on campus.  After a random conversation with an officer, Timothy would became a suspect because of his appearance, specifically his skin colour. Michelle would pick Timothy out of a photo line up. However the line up was faulty as Timothy's picture was a polaroid rather than a mugshot like the other suspects. The next day Michelle picked out Timothy from a photo line up. He was subsequently arrested and charged with aggravated sexual assault.
Timothy was tried by jury in 1986. The prosecutor presented inconclusive and inadequate DNA and forensic data available at the time and relied heavily on Michelle's identification. Timothy's defence lawyer presented his alibi  defence. The defence had alibi  witnesses testify on his behalf. As well, the defence also presented evidence that he had severe asthma and did not smoke cigarettes. The defence attempted to have evidence admitted that similar attacks had continued after Timothy's arrest. The judge deemed this evidence inadmissible and it was excluded at his trial. After six hours of deliberation, the jury convicted Timothy. The next day, he was sentenced to 25 years in prison.

Timothy maintained is innocence. He went on to appeal his conviction, his initial appeals were denied. In 1995 a Texas prisoner named Jerry Wayne Johnson wrote to police and prosecutors admitting that he that he had committed the rape for which Timothy had been convicted. Johnson was serving a 99-year sentence after convictions for two similar  sexual assaults. Johnson's letters were ignored. Timothy died in 1999 without ever learning that Johnson was attempting to confess to the crime.
Eventually Johnson's confessions reached the Innocence Project. The innocence project would go on to  have the DNA evidence from the crime tested. Timothy was cleared by DNA tests in 2008, and at a hearing in February 2009, Johnson again confessed to the crime. A  judge officially exonerated Timothy at an unprecedented posthumous hearing on April 7. 2009. Texas Gov. Rick Perry pardoned Timothy on March 1, 2010.
The victim in the case, Michele Mallin, speaks and writes about the case to raise awareness about misidentifications and wrongful convictions. "I was positive at the time that it was him," she said at a recent speech at the Georgetown University Law Center. "I was shocked when I found out it wasn't him. I joined Tim's family in working to exonerate him because it was the right thing to do. Timothy didn't deserve what he got."