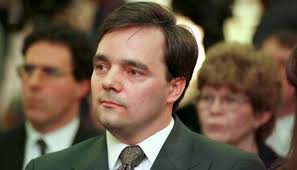 In 1971 Donald Marshall Junior, a Native man, was wrongfully convicted of murdering his acquaintance, Sandy Seale, in a park in Sydney, Nova Scotia. It was alleged that Marshall and Seale, both 17 years old at the time, had been walking around a park during the late evening. They confronted Roy Ebsary, who they encountered in the park. A fight broke out amongst the three, during which Seale fell down. She had been fatally stabbed by a knife wound. Marshall was alleged to have stabbed her. It was purposed by the police and the Crown Attorney, that Marshall had become enraged and stabbed Seale. Form the onset of the police investigation and throughout his trial Marshall's guilt was assumed. At the time Marshall was just 17 years old. He was arrested and charged with murder. Once convicted he received a life sentence.
Marshall spent eleven years in prison before he was released in 1982. He was cleared by the Nova Scotia Court of Appeal in 1983. A witness came forward to say he had seen another man stab Seale, and several witness statements against Marshall from his previous trial were recanted.  Although the Appeal Court declared him not guilty, Marshall was told he had contributed to his own conviction and that any miscarriage of justice was more apparent than real. Consequently Roy Ebsary was eventually convicted of manslaughter in Seale's death and spent a year in jail. It was found that he had in fact been the one to stab Seale.
It wasn't until 1990 that Marshall was eventually exonerated by a royal commission, as it was that determined his original trial had been prejudicial, and that this had contributed to his wrongful imprisonment. Anne Derrick, a well-known social justice advocate lawyer was Marshall's counsel, and well-known social justice advocate lawyer Clayton Ruby, was Marshall's co-counsel during the 1989 Royal Commission on Marshall's prosecution. The Royal Commission report acknowledged that police investigation, judges, Marshall's original defence lawyers, Crown lawyers and bureaucrats all had contributed to Marshall's wrongful conviction due to their racial prejudice.
The report also  found that the Crown Attorney's faile to provide full disclosure as they believed the evidence not provided had no bearing in Marshall's case had contributed to his wrongful conviction. This brought about changes in the Canadian rules of evidence regarding disclosure.  The Evidence Act in Canada was consequently amended. As of 1983 the prosecution must provide full disclosure without determination on what may be useful to the defence. Prior to Marshall's case, Crown Attorneys had discretion to present what they determined to be pertinent to a case.  It was determined that  is that it is more appropriate for the defence to determine what may or may not be useful to an accused.
The case inspired a number of questions about the fairness of the Canadian justice system, a Mi'kmaq man given that Marshall was an Aboriginal  Marshall's wrongful conviction became symbolic of the fight for Native justice in Canada. Marshall ultimately received a lifetime pension of $1.5 million in compensation.