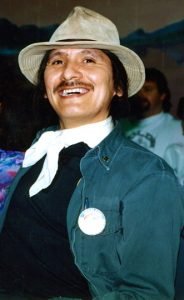 Wilson Nepoose was a First Nations man, of Samson Creeman. He was wrongly convicted of second-degree murder. Wilson was a member of the Samson Cree Nation in the Alberta, the community of Hobbema. During the year of 1986the body of Rose Marie Desjarlais an Edmonton woman, was found strangled to death. Her naked body was discovered in a gravel pit nearWilson's community. Prior to her death she was known to have led a troubled lifestyle.  The 43-year-old First Nations woman was without family, had struggled with alcoholism, and often dependant on welfare.
Prior to being falsely accused and convicted of second-degree murder Wilson was also known to have lived a troubled lifestyle. He was without a permanent address and also struggled with alcoholism. He had previous minor criminal convictions and was known to the police.
A few weeks following Rose's murder Wilson was arrested and charged with murder. Despite there being no physical evidence implicating Wilson to Rose's murder he was convicted of second-degree murder at his first trial. At his trial the Crown relied entirely on testimony from two women who stated they had witnessed Wilson murder the woman. The defence also presented an alibi for Wilson,  that he was drinking with his brothers in a hotel at the time of the murder. However the court did not accept his alibi as the room was not registered in Wilson's name. Despite problematic witness testimony and a lack of physical evidence he was found guilty and sentenced to life in prison.
Talk to an Experienced Criminal Lawyer with PROVEN RESULTS.
or CALL: (416) 658-1818
It would not be until 1992 that Wilson's conviction would be overturned. The overturning of his conviction occurred as a result of an inquiry that revealed perjury by the witnesses, poor police work, withheld evidence, and systemic prejudice against First Nations people in Canada.
He was held in custody while family continued to try to prove Wilson's innocence. They hired an ex RCMP officer as a private investigator. His findings were that of instances of perjury and poor police work in the case, including "illegal threats and intimidation tactics" to get the witnesses to perjure themselves. He asserted prejudice against First Nations people and that if Wilson were white the "case would never have gone to court".
Police were shown to have withheld contradictory witness testimony from both the prosecution and defence.One witness even stated she had been pressured into lying about witnessing the murder and a welfare check proved she could not have been at the scene.
A new trial was never initiated and therefore Wilson was never exonerated. Tragically Wilson suffered from depression and other mental health issues made significantly worse by his ordeal. On 28 December 1997 while Wilson was preparing for a civil suit against the RCMP as compensation for his wrongful conviction he went missing, after telling his brother Lester he needed time to himself. His remains were discovered later in year not far from his sister's home near Hobbema. Rose's murder remains unsolved.