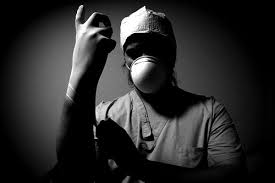 It is a criminal offence in Canada to impersonate a doctor.
Historically, there have been incidence of people impersonating doctors for their own personal gain.
In relation to the impersonation of a doctor, people can be charged with a variety of criminal offences, contrary to the Criminal Code.
It is possible that you may be charged with the criminal offence of identity fraud for impersonating a doctor.
Identity Fraud found in Section 40 of the Criminal Code 403: (1) Everyone commits an offence who fraudulently personates another person, living or dead,

(a) with intent to gain advantage for themselves or another person;

(b) with intent to obtain any property or an interest in any property;

(c) with intent to cause disadvantage to the person being personated or another person; or

(d) with intent to avoid arrest or prosecution or to obstruct, pervert or defeat the course of justice.

Clarification

(2) For the purposes of subsection (1), personating a person includes pretending to be the person or using the person's identity information — whether by itself or in combination with identity information pertaining to any person — as if it pertains to the person using it.

Punishment

(3) Everyone who commits an offence under subsection (1)

(a) is guilty of an indictable offence and liable to imprisonment for a term of not more than 10 years; or

(b) is guilty of an offence punishable on summary conviction.

R.S., 1985, c. C-46, s. 403;1994, c. 44, s. 27;2009, c. 28, s. 10.
Most recently, the case of "Dr. Kitty" has gained media attention.
Allegedly Jingyi "Kitty" Wang, a 19-year-old Toronto woman, impersonated a doctor and preformed cosmetic procedures on her patients.
She faces a criminal offence charge of aggravated assault.
The allegations against her are unproven as her matter is ongoing.
Aggravated assault is found is Section 268(1) of the Criminal Code.
Talk to an Experienced Criminal Lawyer with PROVEN RESULTS.
or CALL: (416) 658-1818
268 (1) Every one commits an aggravated assault who wounds, maims, disfigures or endangers the life of the complainant.
Marginal note:Punishment
(2) Every one who commits an aggravated assault is guilty of an indictable offence and liable to imprisonment for a term not exceeding fourteen years.
Marginal note:Excision
(3) For greater certainty, in this section, "wounds" or "maims" includes to excise, infibulate or mutilate, in whole or in part, the labia majora, labia minora or clitoris of a person, except where
(a) a surgical procedure is performed, by a person duly qualified by provincial law to practise medicine, for the benefit of the physical health of the person or for the purpose of that person having normal reproductive functions or normal sexual appearance or function; or
(b) the person is at least eighteen years of age and there is no resulting bodily harm.
Marginal note:Consent
(4) For the purposes of this section and section 265, no consent to the excision, infibulation or mutilation, in whole or in part, of the labia majora, labia minora or clitoris of a person is valid, except in the cases described in paragraphs (3)(a) and (b).
R.S., 1985, c. C-46, s. 268; 1997, c. 16, s. 5.
If you have been charged with a criminal offence, please contact Kostman and Pyzer, Barristers for your free consultation today!